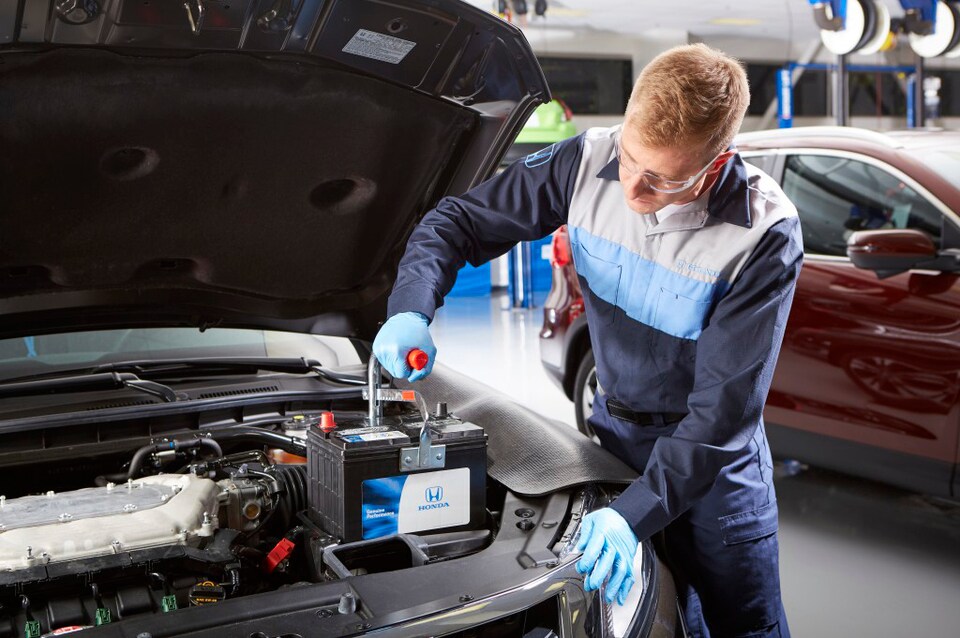 Honda service intervals: Recommended maintenance for your Honda
Honda models are known as some of the longest-running, most reliable vehicles on the planet. One of the reasons Honda SUVs, sedans and truck models last so long is because so many Honda owners like you follow Honda's recommended factory maintenance schedules. In case you haven't been fully introduced to this money-saving concept, here are examples of the Honda service intervals that can help keep your Honda healthy.
An overall note on Honda's maintenance program
It's a good idea to talk to the service professionals at Rick Roush Medina Honda in Medina, OH to get a digital or paper copy of Honda's complete factory-recommended maintenance schedule. As you will see below, the recommended maintenance checkpoints are not necessarily spaced at even intervals like "every 10,000 miles." Instead, Honda employs a more unique, precision-focused approach, as you'll see in the examples that follow.
Basic maintenance: At 7,500 miles, then at 22,500 miles and 37,500 miles
The initial basic maintenance visit that starts at 7,500 miles includes these fundamentals:
Oil and filter change
Inspect your brakes for wear
Lubricate the throttle linkage
Check and top off fluid levels
Inspect your tires and adjust tire pressure as needed
Rotate your tires
It's worth noting that the first item, an engine oil and filter change, is probably the single most important maintenance task you can have us perform for your Honda. Your Honda engine is the heart of your Honda and it consists of hundreds of intricate moving parts, some moving rapidly and coming into contact with each other. All that contact creates friction that can cause your Honda engine to wear out prematurely.
That's why Honda owners from Cleveland and Akron, OH do their Hondas and themselves a big favor by keeping a supply of fresh, high-quality motor oil in the engine. Any engine is vulnerable to tiny airborne invaders like dirt, grime and microscopic metal fragments. Your oil gathers up all that gunk while lubricating engine parts. With an oil change, the gunk gets flushed out and your engine is bathed in the lubrication of fresh new motor oil.
More complete maintenance: At 15,000 miles, then at 45,000 and 75,000 miles
This Honda maintenance interval involves many more steps and is designed to inspect and maintain a big variety of critical Honda components - not just in the engine, but all over the car. Here are just some examples of what Honda drivers from Middleburg Heights and North Olmsted, OH will have done when we provide factory-recommended maintenance at intervals like the ones listed above:
Change your oil and filter
Replace your air filter
Service your transmission
Rotate and balance your wheels and tires
Inspect your steering systems
Inspect your shocks and struts
Inspect your heater and AC system
Inspect all lights and windshield wipers
Inspect distributor cap-rotor-wires
This is just a partial list of what are ultimately dozens of maintenance services that we perform starting at the 15,000-mile mark. It's a much more detailed and comprehensive list than you might find with vehicles from other brands, and it shows the intense level of care that your Honda gets at Rick Roush Medina Honda.
At 30,000 miles, then 60,000 miles, 90,000 miles and beyond
We won't go into all the precision steps we take at these 30,000-mile intervals but rest assured, the list of checkpoints is long. It means you can be assured your Honda is getting very thorough, in-depth care at critical points of its life. Ask us for more details and schedule your next maintenance visit soon at Rick Roush Medina Honda in Medina, OH.