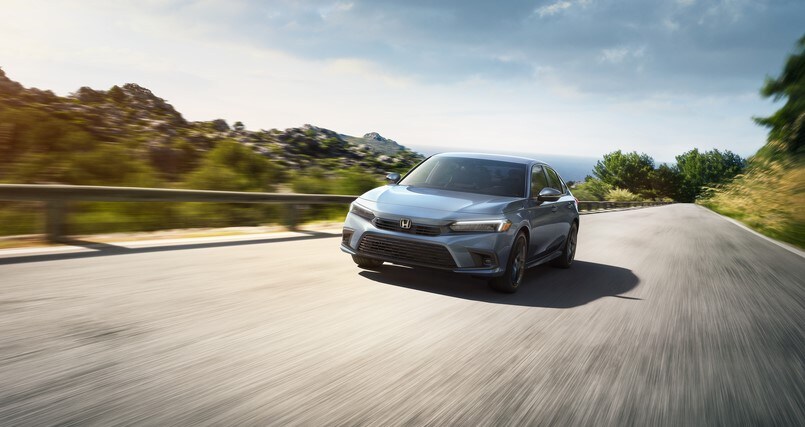 Let the 2022 Honda Civic Show You an Exciting Time Around Medina
The Honda Civic has long been one of the most exciting compact cars you can buy, and the 2022 Honda Civic absolutely lives up to that reputation. At Rick Roush Medina Honda, we're thrilled to show off what the 2022 Honda Civic brings to the table, and we know it will be well worth the drive from Cleveland or Akron to take one for a spin.
New Design
The 2022 Honda Civic has been completely redesigned to give it a more grown-up feel, but it still retains the aggressive characteristics that have made it a fan favorite around North Olmsted. The split front bumper with black trim remains, but the angles have been straightened and softened to give it a more timeless and approachable feel.
Turbocharged Power
You can have your 2022 Honda Civic with either a 1.5-liter or 2.0-liter turbocharged four-cylinder engine, both of which make for an exciting driving experience. With a torque curve that peaks below 2,000 rpm and stays there through 5,800 rpm, you'll enjoy a visceral feeling of acceleration whenever you put your foot down. The 2022 Honda Civic is also one of the few new models to still offer a manual transmission, so those who want to stay engaged by rowing their own gears can take home a three-pedal option that will surely scratch that itch.
Advanced Tech
The 2022 Honda Civic comes with a raft of advanced tech as well, including both Apple CarPlay and Android Auto integrations that make for an easy smartphone connection. Plus, built-in satellite navigation offers traffic updates and new route suggestions to cut down your travel time.
Honda Sensing
With automatic emergency braking and pedestrian detection as standard, the 2022 Honda Civic does well to keep you safe behind the wheel.